This article describes the principal changes of the Elasticsearch Connector.
The connector download section can be found at this page.
Note:

Stambia DI is a flexible and agile solution. It can be quickly adapted to your needs.

If you have any question, any feature request or any issue, do not hesitate to contact us.
addons.elasticsearch_1.0.6.201809241448
This version allows to externalize the SSL Security parameters which can be defined on the Elasticsearch Metadata.
For instance, externalizing the following parameters: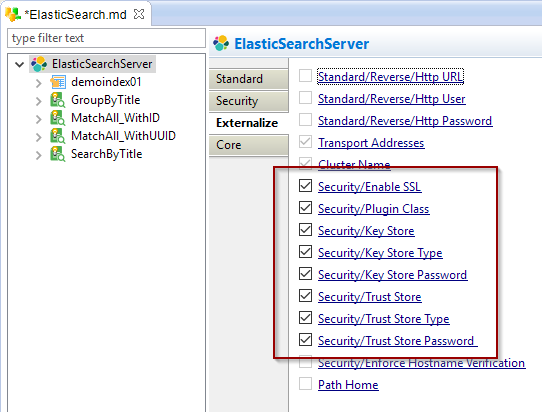 On previous versions, externalizing those parameters did not work because it was not handled correctly in the Elasticsearch technology and connector.
This has been fixed and the SSL Security parameters can now be correctly externalized.
Note that you'll have to re-generate the Packages of your flows after having installed the new connector version to benefit of the correction.