Runtimes can be secured and protected with a user / password.
Connecting to this kind of Runtimes from the Designer is easy and can be done in a few clicks.
Prerequisites:

Stambia DI Designer S18.3.0 or higher
Runtime Configuration
Open the Runtime Editor
Add a new Runtime or Update the Runtime's parameters

That's all, the secured Runtime can now be selected in the list.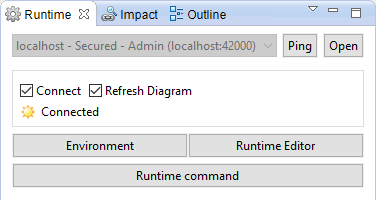 Any modification on the Runtime Editor will require to disconnect and re-connect on the Runtime View to use the new information.

For this, simply uncheck the 'Connect' box and check it again to open a new connection.

This is mandatory for the Designer to perform a connection with the new parameters.
Troubleshooting
If the credentials are incorrect or if you do not have sufficient privileges to connect, the Designer will not be able to perform the connection: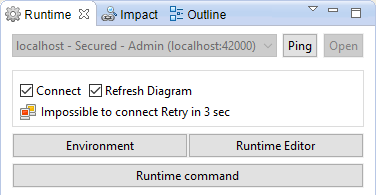 To get more information on the reason why the connection is failing, lead to the 'Error Log' View:

Then double click on the 'Impossible to connect' error to find the complete error that will give more information about the failure.
If you do not have the Error Log View, you can open it from Window >Show View > Other
If the error below is thrown, it is because you are trying to connect to a secured Runtime from a Designer version prior to S18.3.0.
The Designer S18.3.0 or higher is required to connect to a secured Runtime.
java.rmi.UnmarshalException: error unmarshalling return; nested exception is: 
	java.lang.ClassNotFoundException: com.indy.engine.common.IEngineConnection (no security manager: RMI class loader disabled)
	at sun.rmi.registry.RegistryImpl_Stub.lookup(Unknown Source)
	at com.indy.engine.common.EngineFactory.getEngine(EngineFactory.java:17)
	at com.indy.ui.engine.WatchEngine.connect(WatchEngine.java:347)
	at com.indy.ui.engine.WatchEngine.initEngine(WatchEngine.java:148)
	at com.indy.ui.engine.WatchEngine.run(WatchEngine.java:104)
	at java.lang.Thread.run(Thread.java:745)
Caused by: java.lang.ClassNotFoundException: com.indy.engine.common.IEngineConnection (no security manager: RMI class loader disabled)
	at sun.rmi.server.LoaderHandler.loadProxyClass(LoaderHandler.java:556)
	at java.rmi.server.RMIClassLoader$2.loadProxyClass(RMIClassLoader.java:646)
	at java.rmi.server.RMIClassLoader.loadProxyClass(RMIClassLoader.java:311)
	at sun.rmi.server.MarshalInputStream.resolveProxyClass(MarshalInputStream.java:265)
	at java.io.ObjectInputStream.readProxyDesc(ObjectInputStream.java:1566)
	at java.io.ObjectInputStream.readClassDesc(ObjectInputStream.java:1518)
	at java.io.ObjectInputStream.readOrdinaryObject(ObjectInputStream.java:1781)
	at java.io.ObjectInputStream.readObject0(ObjectInputStream.java:1353)
	at java.io.ObjectInputStream.readObject(ObjectInputStream.java:373)
	... 6 more