This article describes the principal changes of Microsoft Azure Templates.
The download section can be found at this page.
Note:

Stambia DI is a flexible and agile solution. It can be quickly adapted to your needs.

If you have any question, any feature request or any issue, do not hesitate to contact us.
TOOL Azure Storage Operation
Support defining parameters automatically through Metadata Link
When drag and dropping an Azure Storage Metadata Link on the tool, related parameters will now automatically use the values from the Metadata.
You can now leave the "Azure Storage Endpoint", "Azure Storage Container", and "Azure Storage Shared Access Signature" parameters empty, they will be filled by the Metadata Link.
You can still, of course, define manually the values in the parameters if needed, they will override the Metadata Link values.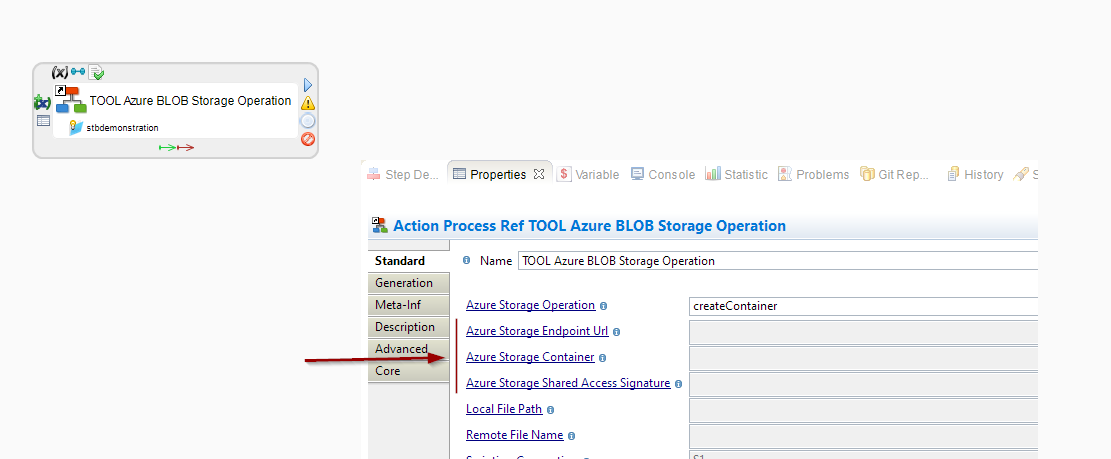 Azure Storage Metadata
Ability to define Storage Access Key
A new attribute has been added in Azure Storage Metadata to define a "Storage Access Key".
This specific key will be used in external tools which do not support using the "Shared Access Signature".
This key is added in prevision to upcoming changes and support of azure storage for loading in additional technologies such as in Teradata loaders which require an access key.
TOOL Azure Storage Operation
Fixes an issue when working with a file path containing backslash characters.