You can find below the major changes and improvements of the Analytics 3.8.x version.
This article only highlights the most important changes.

If you need further information, please consult the full changelog and/or reference documentation.
About migration:

If you are coming from Stambia DI Production Analytics 2.x.x, updating to 3.x.x requires a migration, the procedure being explained in this article.
Source Management Editor
Added a brand new editor that allows you to view all source packages that have been imported into analytics and where they are used.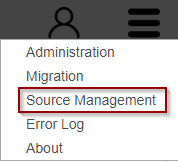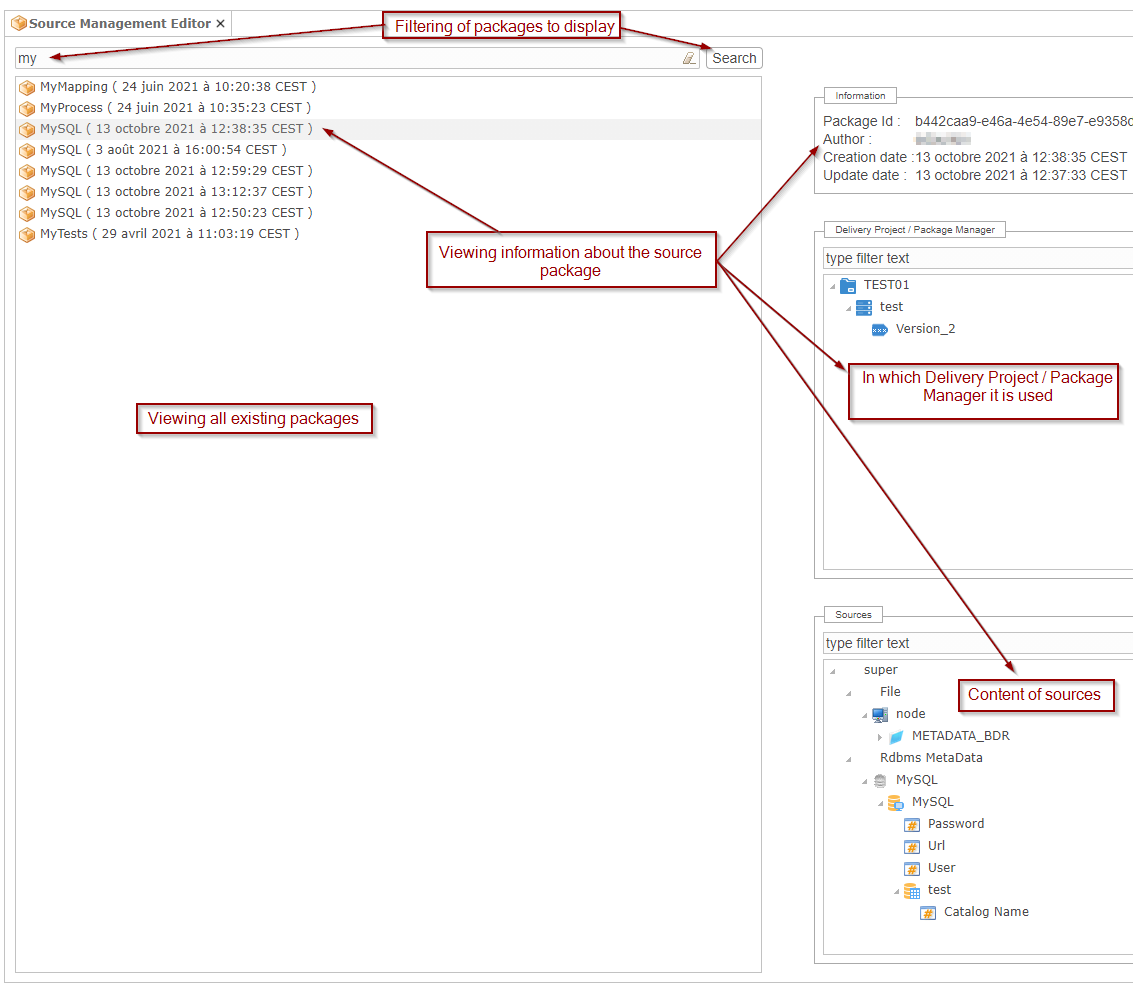 Filters on the Navigator
Addition of the ability to filter at the top of the Navigtor, to allow filtering the tree by entering text. 
When a filter is defined, the browser displays all the corresponding nodes: 
any session report matching
any delivery project matching
any package manager matching
any runtime matching
any delivery matching
etc...

Lists of values in Scheduler
To allow precise planning, addition of value list in the Scheduler, on the seconds, minutes, hours and years.
The values ​​must be separated by commas.
For example, the process will start at 10 a.m., 12 p.m., 4 p.m. and 8 p.m.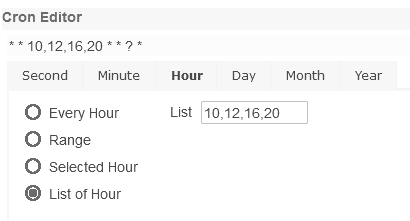 Administration - Runtimes
In Administration, in Runtime tab, there is an option "Disable log database proxy" on the Runtime nodes.
This option allows to define if Analytics should access the session log database through the Runtime or not. 
Accessing sessions logs databases through a Runtime needs the Runtime to be started (Analytics asks the credentials to the runtime and then access the sessions logs database). This makes Analytics perform operations on the Runtime and also requires that the Runtime is started.
We believe it is better to access the log databases directly, using the Log Database tab in Administration, instead of relying on Runtime. 
This is why we have set this parameter checked by default, only when creating a new Runtime.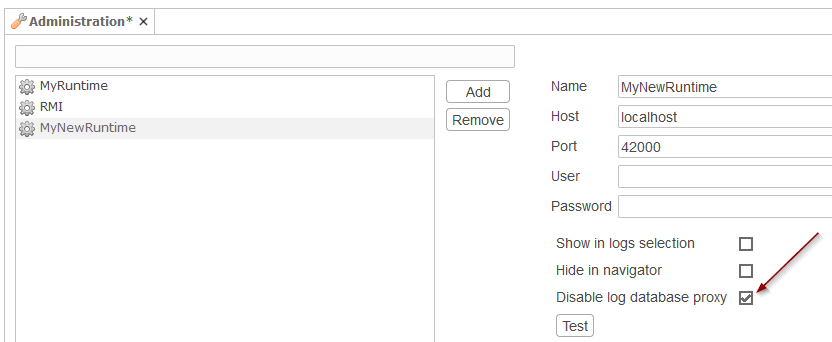 Initialization check at startup
At starting, Analytics perform some checks to make sure the installation and configuration are valid.
A clear message with the complete exception will be displayed to inform the user when misconfiguration is relevant.
For instance this is the displayed message when attempting to start Analytics with an invalid database: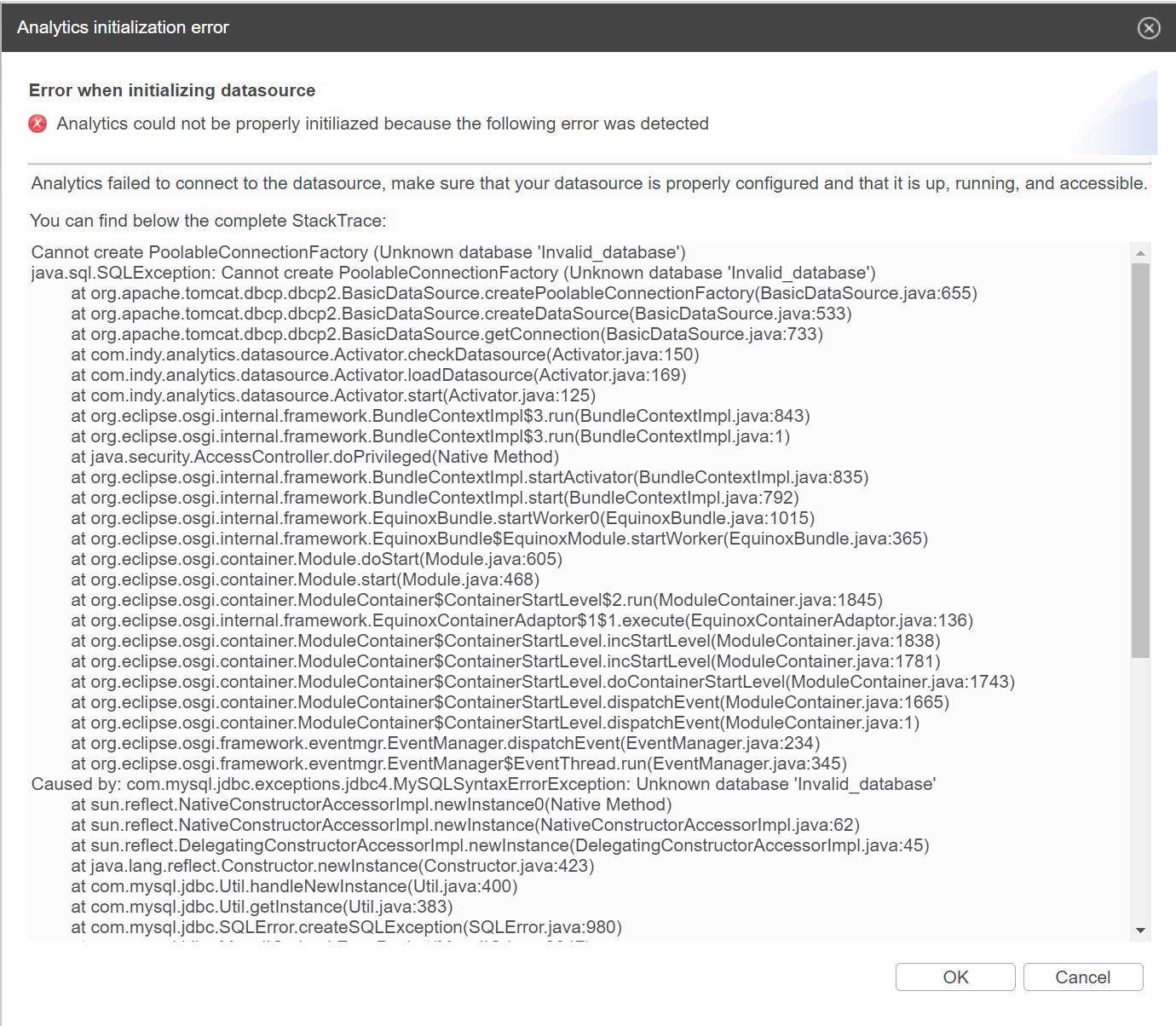 Execute / Run
To be clearer for English users, we have renamed "Execute" to "Run".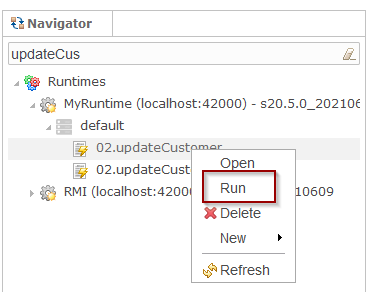 Other improvements and bug fixes
This version is shipped with several other improvements and fixed issues which can be found in the full changelog.
Do not hesitate to give it a look to have an idea of what have changed.